Donors
They support us!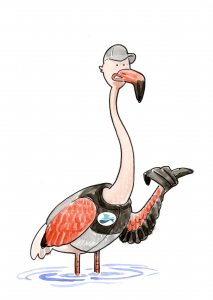 For nearly 15 years, the Crédit Agricole Alpes Provence Foundation has enabled more than 450 projects to become a reality. Its objective: to support useful initiatives in Provence in the fields of collective solidarity, knowledge sharing, and the enhancement of the terroir and the built or natural heritage.

The Crédit Agricole Alpes Provence Foundation has thus chosen to support the Research Institute for the Conservation of Mediterranean Wetlands, the Tour du Valat, which works, thanks to its scientific expertise and innovative solutions, to preserve our local natural heritage and its biodiversity.

The Foundation is thus supporting the creation of a web platform which, through the sponsorship of greater flamingos, helps to raise awareness among the general public and contributes to continuing their efforts to safeguard this emblematic species.

Continuing a partnership initiated more than ten years ago, the Total Foundation supports our research program on Greater flamingos and more specifically the development of this website.

The Total Foundation program encompasses the solidarity initiatives carried out every day around the world by Total, its subsidiaries and its Corporate Foundation. In this way, the Group wishes to participate in the development of its anchor areas by supporting young people in particular. With its partners, it works in four areas: education and integration of young people; dialogue between cultures and heritage; road safety; and climate and the environment. Each employee can also devote up to 3 days of their working time per year to these missions of general interest.

The Total Foundation is part of the Group's commitment to society and contributes to its ambition to become the Major in responsible energy.

The MAVA Foundation was created by Luc Hoffmann in 1994, with the mission of establishing solid partnerships so as to preserve biodiversity for future generations.

The Tour du Valat is one of the key projects backed by the MAVA Foundation, from which it receives major support.